Cancer Through Another Lens
On February 12th 2023 Mark presented his research to a panel of 10 cancer experts, and a live audience of over 200 medical professionals. It was at this event that Mark's Cell Suppression Theory was critically analysed, voted upon, and ultimately validated by leading scientists and clinicians in the field. Click to view some snippets from the recording of this landmark event.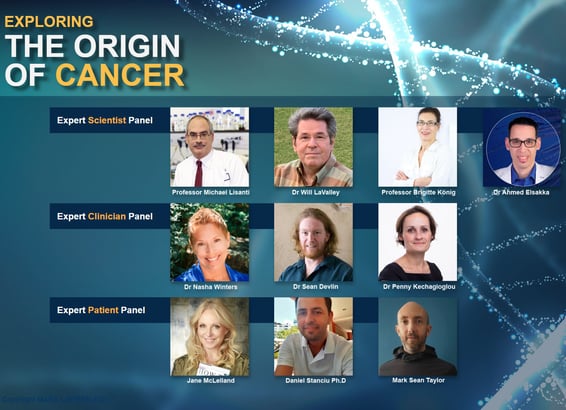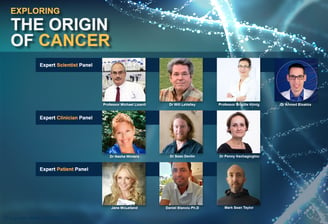 Here's an excerpt taken from my book describing the event and the moments leading up to the start of my first presentation:
"...Nothing like this had ever been trialled before, a lay person presenting evidence for a new model of cancer directly to a panel of experts, for it to be critically analysed in front of a live audience of medical professionals. I opened up my research, and myself, to scrutiny in a very public way, and was prepared to be grilled by some leading minds in cancer research to see if the new perspective of cancer I had developed could withstand critical analysis. It's one thing to have your ideas submitted for peer-review, it's another thing entirely to stand alone in an open forum and have your ideas challenged in full view of everyone present – for a brief moment, I wondered if I'd bitten off more than I could chew.
A year earlier I'd pitched my new model of cancer to the founder of the cancer charity Yes To Life in an extensive four hour internet video call. Robin sat quietly and listened as I took him through the concepts of my cancer model. I only became aware of how long our meeting was taking, and how engrossed Robin had become, when a hand appeared to the right of the screen and passed him his dinner. Instinctively, he took hold of the plate full of food, thanked the hand, and remained transfixed upon his screen. Undeterred, I carried on while he munched on his meal. Once I'd finished, there was a short pause while Robin was formulating his response. He was impressed and intrigued, but expressed a sensible level of scepticism. He stated that if I truly had something of value to offer, something important to add to the cancer conversation worthy of consideration, then it would need to stand up to some serious scientific scrutiny, and there's no better way to do this than to have my ideas challenged in a very open and public way.
He proposed that I take part in a unique platform where leading cancer experts would consider my model and challenge it's concepts in an online debate. While this was an extremely daunting prospect, I knew that I could not shy away from such a proposition, good science is required to be rigorously scrutinised to check its validity – it isn't science if it can't be questioned. If I wanted to be taken seriously and my model accepted, I would need to allow the harsh, but necessary, method of scientific investigation to poke and prod my work, and the evidence that supports it. And so I agreed.
Fast forward to the 12th February 2023 at 2:55pm. There's five minutes left of the 10 minute intro video being played, where all the expert cancer panellists and me, are being introduced on screen to a live audience of over 200 medical professionals; each of which are eager to find out who I am, and what I have to say. I'm in a room alone at the Yes To Life head quarters about to give the most important set of presentations of my life – presentations that suggest that mainstream medicine has misunderstood the disease, and that there's a new way to interpret cancer. As you can imagine, I was a little nervous.
Those five minutes were the longest and most difficult to endure – knowing I was entering the lions den for all to see, and wanting to provide a good account of myself and my work, at a time when my blood pressure was rising fast. At this point my wife sent me a text message "good luck husb, we're all rooting for you" – and then a picture message showing my seven month old daughter watching the intro video on a laptop, back in my home town.
Now I was becoming emotional with four minutes to go, when I needed to be focused. It had been such a struggle to reach this moment after eight years of research and hardship, and finally it was here. Everything I'd worked towards for the last eight years depended upon the outcome of this moment. Not only that, but it really mattered to me that family were watching, because I'd largely been alone in this journey up until this point, with some friends and family distancing themselves because they couldn't comprehend the enormity and significance of what I'd potentially achieved.
I slapped myself around the face several times, bounced on my toes while moving my head side to side as if I was about to enter a boxing ring, like in a Rocky movie, and then sat down at my desk, ready for what was to come. One minute to go...I had to focus...I had a job to do…"